Youth Programs
Summer Break 2019
Youth Intensive Resumes August | Youth Rec Resumes September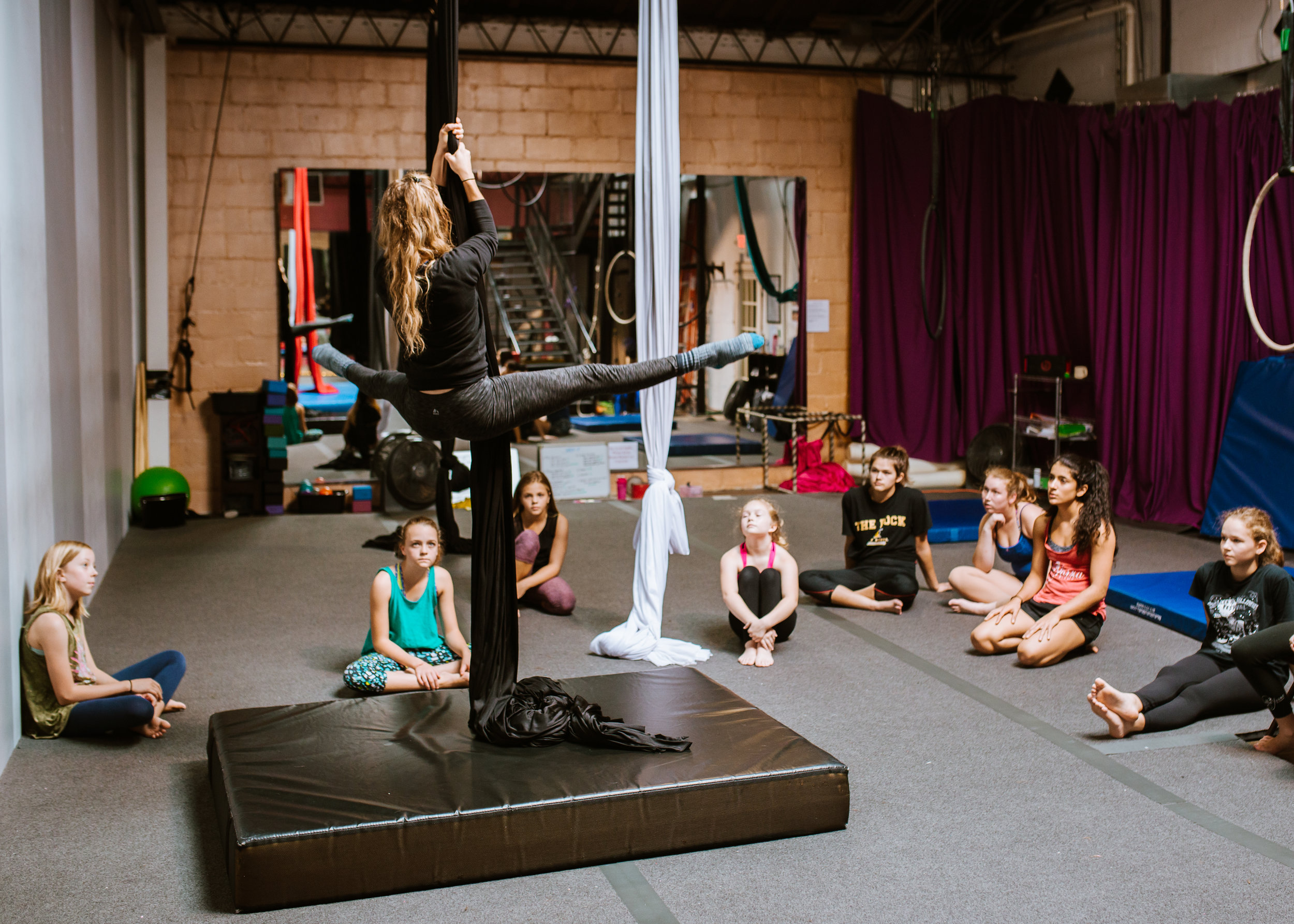 Hard Work. Creativity. Commitment.
OUR YOUTH AERIAL ARTS CLASSES RUN IN CONJUNCTION WITH THE FAYETTE COUNTY PUBLIC SCHOOL BREAK SCHEDULE.
The proper attire for Youth Auditions: Intro to Silks is leggings past the knees and a tight fitting workout top or leotard.
YOUTH AERIAL AUDITIONS: INTRO TO SILKS
Youth Auditions: Intro to Silks is a two class series for any child over 8 years old wanting to try out aerial silks for the first time. We will move through a series of introductory movements that involve training the basic techniques, climbs, lifts, and poses on the silk as well as safety tips and proper alignment. This class is a pre-requisite to enrolling in any of Sora's Youth Programs.
Click to register. This two class intro series is typically offered the last 2 weekends of the month for $35. The classes are to be taken in sequential order.
Classes begin with a 15-20minute warm up. Please be sure your child arrives promptly. If you child misses the warm up, we may ask your child to sit out.
YOUTH AERIAL REC PROGRAM
Registering for Youth Aerial Rec class is the next step once your child has completed Youth Auditions: Intro to Silks and has been approved by the instructor to move on. Youth ages 8-17 can enjoy 50 minute aerial arts classes in order to learn the leveled skills in aerial acrobatics. Students may take one series or more per session, but must the same day/time each week for the session. This program is perfect for the student new to the aerial arts and/or the student who enjoys aerial acrobatics classes as a hobby.
Days and Times TBD
To register please email manager@soraaerialarts.com
*payment must be made by first day of class, each month. Auto-draft options are available.
*attendance policy is sign up and show up, no make-ups.
Space in this program is limited. Speak to your child's Youth Rec teacher if your child is interested in enrolling in Intensive.
YOUTH AERIAL INTENSIVE PROGRAM
The students in this program are Sora Aerial Arts' Junior Company. Youth ages 8-17 are eligible only with instructor approval for the Youth Intensive program at Sora. This program is designed for students who take their aerial and performance art training seriously. Students who enroll in this program will get performance opportunities in the community that other students will not, including opportunities to be in Sora's productions at local theaters, charity events, community outreach and more. The programming in Youth Intensive is designed to help each student make progress in all aspects of being an aerialist and performance artist including strength, flexibility, endurance, stage presence, artistry, and multiple apparatus. Being an aerial performer takes discipline, LOTS of hard work, creativity, and commitment!
Youth Intensive students receive:
4-8 hours per week of skill-specific training per week

FREE Open training times to fine-tune and practice skills learned in class

4 FREE cross-training fitness classes per month on the Sora Aerial Arts schedule
SUMMER CAMP
Check back for 2020 dates!
We offer week long summer camps that focus on performance and circus arts including aerial acrobatics, dance, gymnastics, partner acro, acting, juggling, performance training and more! Kids and teens ages 10-17 are eligible to register for summer camp at Sora Aerial Arts. On the last day of summer camp parents and family are invited to watch the circus production the kids created that week!